Click here for links to comedians' web pages.
Click here for links to other comedy clubs.
---

Manchester Comedy - Everything you need to know about the Manchester Comedy scene (and comedy in general). News, listings, interviews and articles, etc.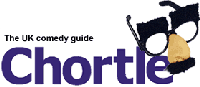 Chortle - This site contains pretty much everything you want to know about what's on in the world of comedy (stand-up or otherwise). While you're there, why not visit the Forum and leave a message!

The Framley Examiner - Amusing spoof newspaper-type thing - check out the classified ads...

The Law of the Playground - This is a piss-funny site which features an A-Z of playground insults - you can even submit your own! My own personal favourite is 'Skil'.

TV Cream - Ever wondered where to get hold of those top TV theme tunes you can hear before the comedy starts at Bar XS? Well this site has a few of them you can download as MP3s.
Manchester Online - Need a What's On guide to Manchester? This site tells you all things Manc.

Winamp - If you want to download audio clips from the XS Malarkey website you'll need an MP3 player. Winamp is an excellent one, which also plays CD's, WAV files and many other formats.
mp3.com - Alternatively, there are other MP3 players, downloads and links available at mp3.com